We are excited to announce Chanticleer Authors Conference & Awards Banquet 2015
Sunday, Monday, & Tuesday, Sept. 27, 28, & 29 at the beautiful Hotel Bellwether, in Bellingham, Wash. conveniently located between between Seattle and Vancouver, B.C.

The Chanticleer Conference will focus on how to help authors achieve their publishing goals by offering sessions on:
Book Marketing Tips & Tools
Engaging Readers and Building a Fan-base using Leadership Communication
Understanding Distribution and Sales Channel
Book Distribution and Trade Show Representation
WattPad – three sessions
Publishing Avenues – the latest options
How to Design a Cover that Sells Your Book
Promotions Checklist and Promotional Strategies for Your Books
How to Access Book Clubs and Reading Groups
Secrets to Increasing Your Readership
The Best Services for Selling Your E-Pubs
Reviews – How to make yours work harder for you
Libraries – an insider shares her tips
Author Branding & Internet Identity
Social Media Strategies & Savvy
E-pub Avenues & Tactics
Discoverability Tools & Strategic Planning for Heightened Visibility
Audio Books – Perfect for Today's Busy "Readers"
The Business of Being a Writer
Collaboration & Networking to Expand Web Presence
Branding & Platform Building
Pricing Strategies
You do NOT have to be a published author to attend this conference!  Aspiring authors will benefit immensely from this conference. We will also offer "writing concept" classes to get you on your way!
Click here to Register Today!   
CBR Awards Banquet–You don't have to be a CBR winner to attend this exciting event! 

We will have a Book Room for attending authors that will be open to the public

Conference with workshops/social media sessions/marketing lessons

Networking Opportunities

Prizes and Drawings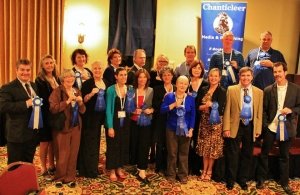 The Chanticleer Awards Banquet and Conference will feature:
Three full days of classes, sessions, &  author events
Coffee, tea, & snacks daily
Networking Opportunities & Cocktail Parties
Sunday  Luncheon, Cocktails in the Book Room, and Dinner with Keynote Speakers – tbd
Monday Luncheon with Keynote Speaker and Evening Cocktail Mixer,  and then on to Dinner with the Dinner Divas and Divos
Tuesday Luncheon, Cocktail Party, and Awards Gala & Banquet
The Chanticleer Banquet honoring the 2014 CBR award winning authors & titles
Keynote speaker at Awards Banquet
Coffee and Tea service throughout the conference.
Exhibitors & Author Services
Book Room will be open throughout the conference for attendees

Author Readings & Signings on Sunday – OPEN to the PUBLIC from 5 until 7
Door Prizes
Panel Discussions
Cash Bar
 
Share it:
Tweet